Conifer x 8 - Smaragd - Thuja occidentalis - Hardy Narrow Hedge Deep Emerald Green Cypress Plants Christmas Trees Pyramidal Conical Pots Bonsai Topiary
Product Code: conifer-smaragd-thuja-occidentalis-plants-pack
Availability: 7888
Conifer x 8 Smaragd Emerald Green Pyramids Plants Hedge Cypress Thuja occidentalis Tree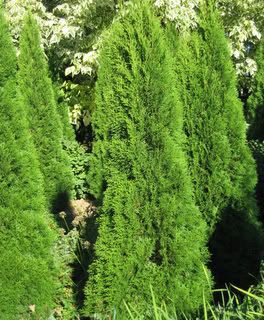 .
The plants you will receive are in 50 by 80mm pots and will be 10 to 15cm tall. They will have established roots and will be ready to plant into your garden.


'Smaragd'
Thuja occidentalis
Emerald Eastern Arborvitae
Emerald green conifers that grow in a long conincal/pyramidal shape.

Great screens and hedges.

Can be grown in pots.

A

living Christmas tree.

Able to withstand Australian frosts.

Unlimited

possibilities for topiary form.

An artistic and relaxing form for bonsai.

Smaragd has herbal uses.

Plant 80cm apart for a dense hedge. To hedge even faster, plant at 50-70cm apart.


Position: Full sun to semi-shade. Will thrive in most soil conditions.
Height: Approx 3 metres. Can be hedged at any height from 50cm to 3m. Will grow between 40-80cm per year.
Width: Approx 90-130cm.
The collage of conifers is of some of the other varieties we often have for sale on eBay. From left to right:

Top row

:
Smaragd, Blue rug (ground cover), Sky Rocket.
Middle row:
Golden Biota, English cottage garden, Pencil Pine.
Bottom row:

Pencil Pine & Swanes Gold Pencil pine, Communis repanda (semi groundcover), Castlewellan Gold Conifer/Cypress.
Plant pick-up also available from our retail nursery
7 days per week
Plantinspirations
Online & Retail Nursery
2c Holts lane
Bacchus Marsh 3340
Retail Trading Hours
Mon-Fri 9am-4:30pm
Sat 9am-3pm
Sun 10am-3pm
We work hard ensuring our plant descriptions and notes are as accurate as possible. Please let us know if you find errors or have information that will improve them.
Tags: plant pack, conifer, hardy, narrow, garden plants, hedge, tree, conical, pyramid, screen